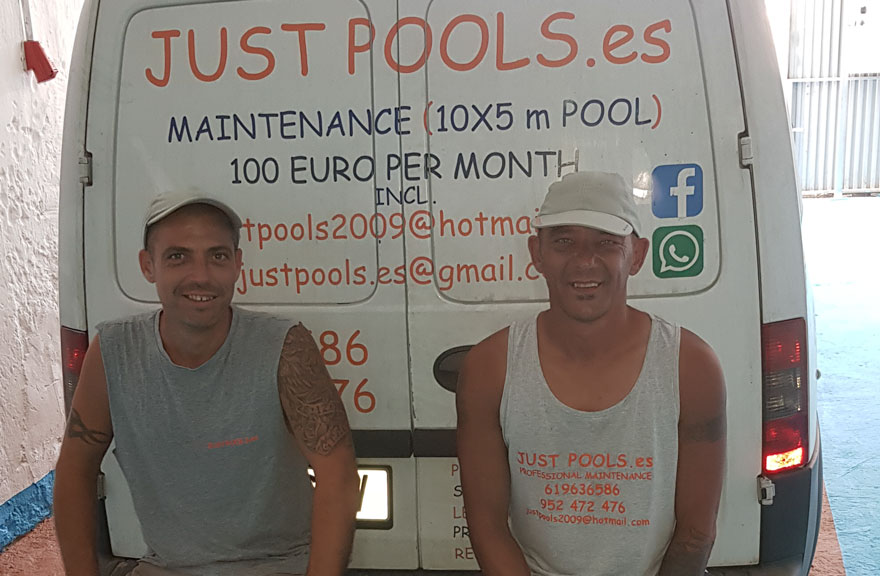 Neil and Cameron from the JustPools.es Team
It's our mission to make sure you don't loose any hair worrying about your pool. We take great pride in our work and always seek to leave our customers 100% satisfied - and worry free.

I moved to Spain from Coventry in 2001 with the deluded dream, like so many, of running a bar in the sun. Of course that failed so I did labouring gardening and anything else I could find.
I was very lucky to get a job with a pool cleaning company and after a while decided to go alone so began justpools.es. I live with my partner Sam (self appointed PA) we have three dogs one of them - Scooby - sneaked into group photo with collar on. 

Sam hails from Surrey and moved to spain in 2000 with similer dreams to Dean's and has worked at the same bar on the beach front in Fuengirola for the last ten years and is now ready to work for our expanding buisness. 
Neil has been with us for 5 years and lived in Spain since 2003 moved back to England for a while didn't like it, and has now settled down in Los Boliches since living here he has done mostly gardening, labouring, and helped his mom with her villa rental business, including cleaning pools.

Cameron has been with us a year now and has just experienced his first summer in the Spanish heat, we are glad he survived and looking forward to him learning all aspects of pool cleaning and repairs and to hopefully a long career with justpools.es.